John Maxwell Geddes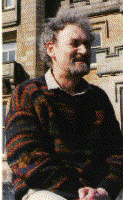 John Maxwell Geddes wss one of Scotland's leading composers. Born in Glasgow in 1941, he studied at the Royal Scottish Academy of Music under Gordon Cameron and Frank Spedding, and subsequently with Niels Viggo Bentzon in Copenhagen. He has lectured in the United States, Germany and the former Soviet Union, and his works are widely performed and broadcast. His orchestral works include Symphony No. 1 (BBC, 1975), Voyager (BBC 1985), and several works commissioned by the conductor Bryden Thomson: Lacuna (1977), Ombre (1984) and a Second Symphony (1993). He has also written several works for solo instruments, chamber ensemble, and folk song settings. During 1998 Geddes completed the Sinfonietta for three string orchestras and the Guitar Concerto. He conducted premieres of both works in 1999. The Third Symphony, completed in 1999, received Dutch, German and British premieres in Summer 2000 (NYOS / Sian Edwards). The work was recorded and broadcast by Radio Berlin and subsequently on Radio 3.
In 2000 Geddes completed another orchestral work, The Hill House... a celebration and conducted the premiere with Helensburgh Orchestral Society in March, 2001. By 2001, Dances at Threave neared its hundredth performance and there was a growing demand for a concert band version. In that year, Geddes attended the International Youth Orchestra course in Bremen for the German premiere. The Belgian, Latvian and French premieres followed. The work was performed by the National Children's Orchestra of Scotland in Glasgow (April 2001) and the RSAMD Junior Orchestra (June 2001). In 2003 John Maxwell Geddes was made a Fellow of the Royal Scottish Academy of Music and Drama. He continued to be active as a composer in Scotland and Europe until his passing in 2018. A composition fund through the Scottish Music Centre has been set up in his name, awarding a commission to a deserving young composer annually.
Return to Dances at Threave (band).